Counting early gains in community participation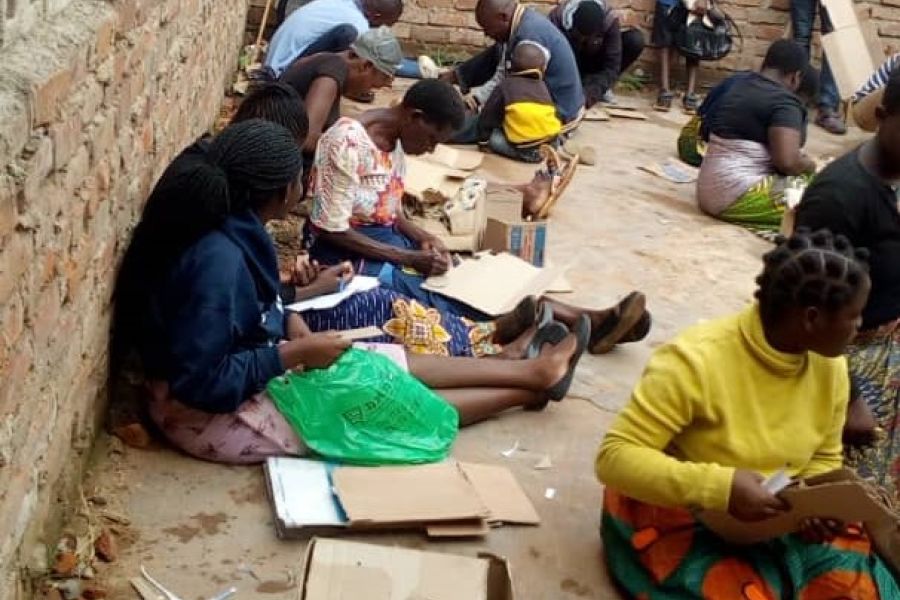 When teacher, Patricia Thambo, and her colleagues at Gombe Primary School in Thyolo district invited parents to school to make shapes for their children to use in mathematics classes, they were overwhelmed by the response.
Gombe Primary School is one of 200 schools working with the UK aid-funded National Numeracy Programme to pilot a new approach to teaching and learning mathematics in lower primary standards.
At the start of each new term during the pilot, there is a workshop to introduce teachers to new content. At the start of Term 2, teachers learnt about teaching the topic 'Space and Shape' and they made a set of 2D and 3D shapes to take back to school. But one set of shapes is not enough! Every learner needs access to a range of shapes and objects, which is why the NNP has been encouraging schools to mobilise support from parents.
At Gombe school, more than two hundred parents and caregivers arrived, and after a short demonstration, they set to work making 2D and 3D shapes from empty boxes and cartons. "Not only did parents come to school to make the shapes. Some of them went home and made extra materials, which they brought to us later," said Patricia.
Other schools have organised similar events with the same high levels of community support. At Chiole Primary School in Ntcheu district, Sautso Kanyong'onyeka, the head teacher said, "We made over 300 shapes in a single day, and more are being made."
A Key Teacher at Mkondezi Primary School in Nkhatabay district, Dinnah Ching'ombe, explained that "Initially, parents were invited to make resources for the class their children are in, but then they stayed to help others."
77-year-old Gersom Makina, braved the chilly weather to make shapes at Nasiyaya School in Phalombe district. Makina is a caretaker for his three grandchildren in standards 4, 5 and 7. When asked what motivated him to join in the activity, Makina said, "Despite my own lack of education, I know the benefits. I support any initiative that helps provide good education to my grandchildren. I was happy that young men and women also joined the occasion in large numbers."
These wonderful examples of community support for mathematics education show what can happen when schools and parents work together to support their learners.